News
The latest TOTW news
FIFA 20 Team of the Week Prediction: Week 21
Two OTW upgrades are in our TOTW 21 predictions!
---
Hello and welcome to week 21 of our TOTW Predictions powered by Score More With Xbox!
Last week was weird in terms of Predictions, there were some nice calls but also some bad ones like Neymar...so let's be more realistic this week!

The main highlights of this week: Serie A Strikers, Jadon Sancho (again) and Mo Salah.

Serie A strikers produced a show this weekend: Immobile got 2 goals and 1 assist, Lukaku scored 2 goals that won Inter the game, Caputo scored 2 goals vs Roma.

Jadon Sancho again got 1+1. Again and again – wouldn't be surprised if that was Sancho's favourite song! He has 12 goals and 11 assists this season and he's not stopping.

Mo Salah or Roberto Firmino will get an IF for Liverpool's 4-0 win over Southampton. Salah got 2 goals and also played well midweek, but Firmino got 3 assists in one game.

Other than that: De Ligt and Telles – both have chances to improve their dynamic cards, both scored goals and kept clean sheets in their wins.

Hugo Lloris saved a penalty for Spurs against City and Rudiger scored 2 goals in 2-2 draw against Leicester.

Looks to be another decent week for red in forms, so here's hoping you get some luck if you played FUT Champions this past weekend!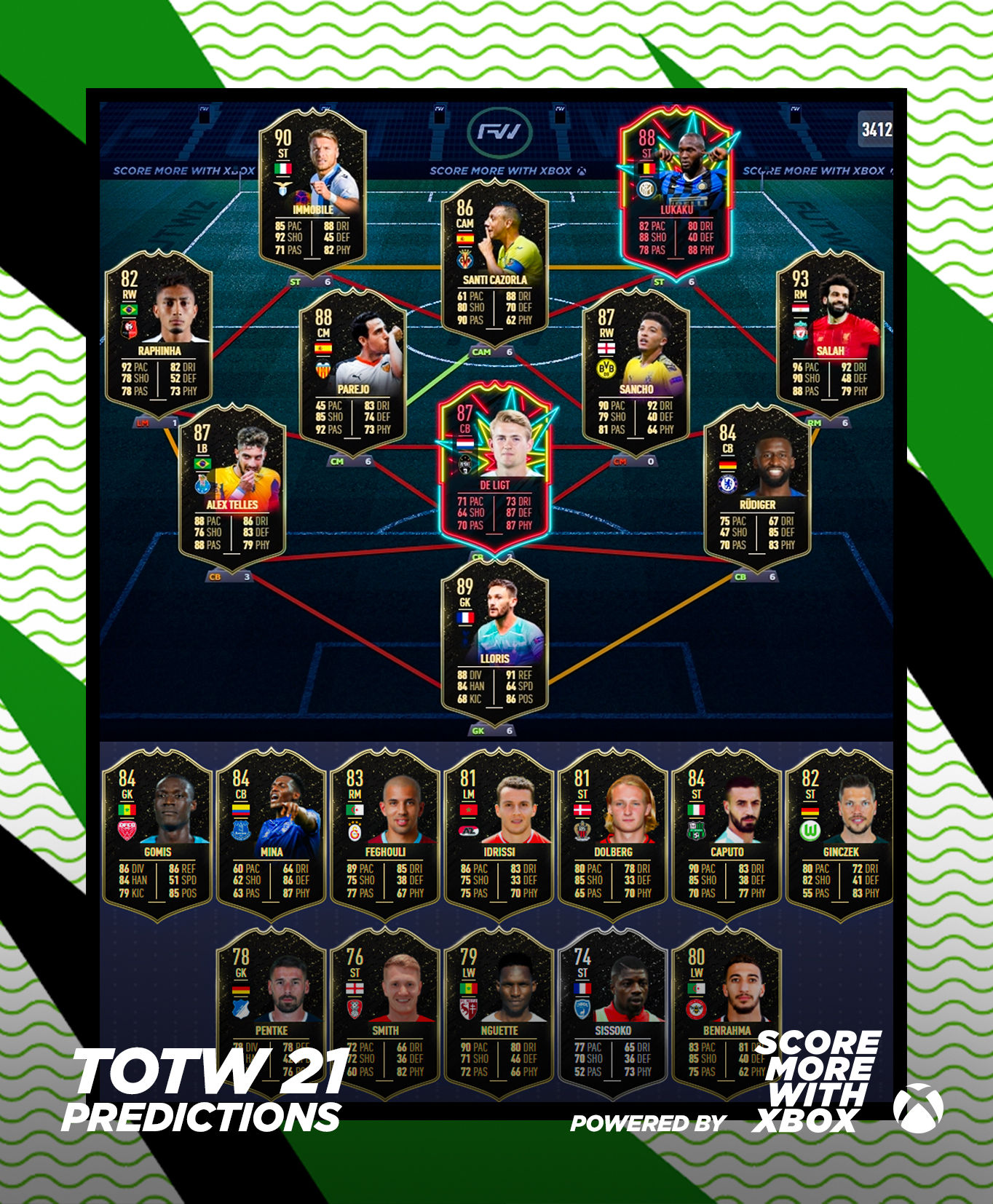 Starting 11:

GK: Hugo Lloris (Spurs) – 88>89– 5 saves and pen save and cs in 2-0 win (SUN)
CB: Antonio Rudiger (Chelsea)– 82>84–2 goals in 2-2 draw (SAT)
CB:Mathijs De Ligt (Juventus) – 85>>87 –1 goal and cs in 3-0 win (SUN)
LB:Alex Telles (Porto) – 84>>87 – 1 goal and cs in 4-0 win (SAT)
RM: Jadon Sancho (BVB) – 84>>87– 1 goal and 1 assist in 5-0 win (SAT)
CM: Dani Parejo (Valencia) – 86>88- MOTM in 1-0 win (SAT)
RM:Raphina (Rennes) – 79>82 - 2 goals in 3-2 win (FRI)
RM:Mohammed Salah (Liverpool) – 90>93– 3 goals and 1 assist in 2 wins
CAM: Santi Cazorla (Villarreal) – 82>>86– 1 goal and 1 assist in 3-1 win (SUN)
ST: Ciro Immobile (Lazio) – 86>>90– 2 goals and 1 assist in 5-1 win (SUN)
ST: Romelu Lukaku (Inter) – 85>>88- 2 goals in 2-0 win (SUN)
Subs:

GK: Alfred Gomis (Dijon) – 77>>84 – 4 saves in 3-0 win (SAT)
CB: Yeri Mina (Everton)- 79>>84- 2 goals in 3-2 win (SAT)
RM: Sofiane Feghouli (Galatasaray)- 80>83 – 2 goals in 3-1 win (SUN)
LW: Ousamma Idrissi (AZ) – 76>81- 2 goals in 4-0 win (FRI)
ST: Kasper Dolberg (Nice) – 76>81– 2 goals in 2-1 win (SUN)
ST: Francesco Caputo (Sassuolo) – 75>>84- 2 goals in 4-2 win (SAT)
ST: Daniel Ginzcek (Wolfsberg) – 78>82- 2 goals in 4-2 win (SUN)

Reserves:
ST: Michael Smith (Rotterham)– 67>76–2 goals in 3-2 win (SAT)
ST: Ibrahim Sissoko (Chamois) – 64>74 – 3 goals in 4-4 draw (SAT)
LW: Opa Nguette (Metz) – 72>79- 2 goals and 1 assist in 3-1 win (SUN)
LW: Said Benrahma (Brendtford) – 74>80 – 3 goals in 5-1 win (SAT)
GK: Phillip Pentke (Hoffenheim) – 71>78– 9 saves in 2-1 win (SAT)