News
The latest TOTW news
FIFA 20 Team of the Week Prediction: Week 12
Black Friday weekend was a bit crazy, not the best promo overall this year but we saw some massive lightning round numbers, hopefully we'll have a nice TOTW to keep the momentum going
---
Welcome to Week 12 of TOTW Predictions powered by Score More With Xbox! Black Friday weekend was a bit crazy, not the best promo overall this year but we saw some massive lightning round numbers, hopefully we'll have a nice TOTW to keep the momentum going.

Last week we finally got a decent result with our predictions so I hope we'll keep up with that this week.

It was an interesting TOTW to predict because every player is kinda deserving and there aren't that many wild-card choices this time.

Let's start with highlights, shall we? Virgil Van Dijk scored 2 and it's a good sign for those who played WL and are hoping for a good player pick.

Other than that – 2 good strikers from Serie A: Ciro Immobile and Lautaro Martinez – both scored 2 goals and got a good rating. Immobile for sure deserves more IFs because he's in insane form this season - 17 goals already, if I'm not mistaken.

In La Liga we should get in forms for Odegaard with 10\10 performance, Pique with a good game vs Atletico, Carvajal or Ramos with goals for Real Madrid.

In Bundesliga we have Lukasz Hradecky who had an amazing performance vs Bayern. 10 saves should get him SIF, no matter what. Other choices are: Milot Rashica with 2 goals in 3-2 win and Breel Embolo with throwback to FUT 17 with 2 goals and 1 asssist.

Few interesting players from Chinese Super League also feature in my predictions: Renato Augusto got 1 goal and 2 assists, while Marko Arnautovic scored 4 goals.


And as always: Good luck with your red picks if you played Weekend League, hopefully you'll get one of the better ones!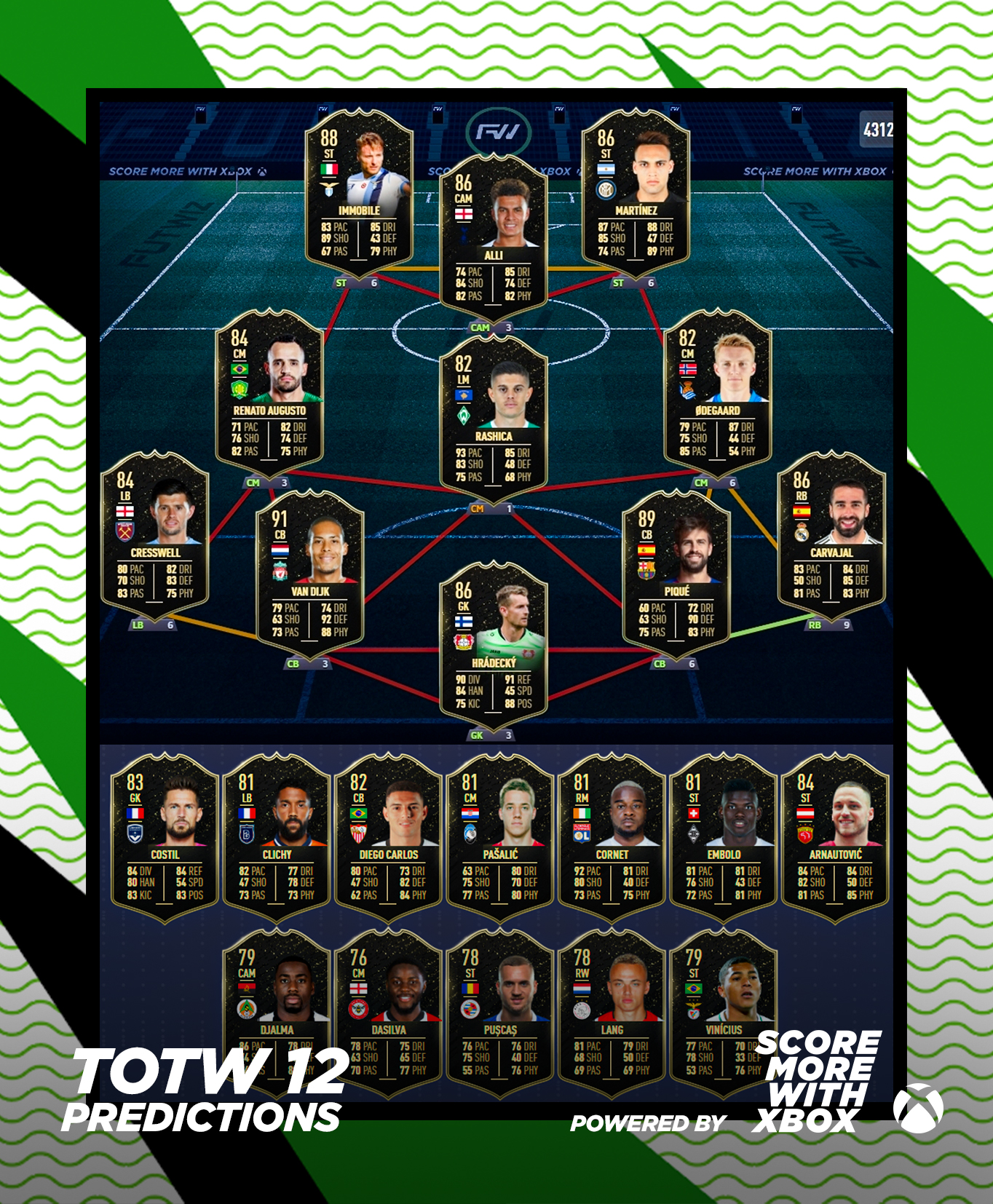 Starting 11:

GK: Lukasz Hradecky (Bayer) – 83>>86– 10 saves in 2-1 win (SUN)
LB:Aaron Cresswell(West Ham)– 76>>84– 1 goal and CS in 1-0 win (SAT)
CB:Virgil Van Dijk (Liverpool) – 90>91 –2 goals in 2-1 win (SAT)
CB:Gerard Pique (Barcelona) – 88>89 –cs and good performance in 1-0 win (SUN)
RB: Dani Carvajal (Real Madrid) – 85>86– 1 goal in 2-1 win (SAT)
CM: Martin Odegaard (Real Sociedad) – 78>82- 1 goal and 1 assist in 4-1 win (SAT)
CM:Renato Augusto (Beijing) – 81>84 - 1 goal and 2 assists in 3-2 win (SAT)
LM:Milot Rashica (Werder) – 79>82– 2 goals in 3-2 win (SUN)
CAM: Dele Alli (Spurs) - 84>86 – 2 goals in 3-2 win (SAT)
ST: Ciro Immobile (Lazio) – 86>>88– 2 goals in 3-0 win (SUN)
ST: Lautaro Martinez (Inter) – 81>>86- 2 goals in 2-1 win (SUN)
Subs:

GK: Benoit Costil (Bordeaux) – 80>83 – 6 saves in 1-1 draw (SUN)
LB: Gael Clichy (Istanbul)- 77>81- 1 goal and 1 assist and cs in 2-0 win (SUN)
CB: Diego Carlos (Sevilla)- 79>82 – 1 goal and cs in 1-0 win (SUN)
CM: Mario Pasalic (Atalanta) – 77>81- 2 goals in 3-0 win (SAT)
RW: Maxwell Cornet (Lyon) – 76>81– 1 goal and 1 assist in 2-1 win (SAT)
ST: Breel Embolo (M'gladbach) – 76>81- 2 goals and 1 assist in 4-2 win (SUN)
ST: Marko Arnautovic (Shanghai SIPG) – 82>84- 4 goals and 1 assist in 7-0 win (SAT)

Reserves:
LM: Djalma (Alanyaspor)– 73>79–3 goals and 1 assist in 5-0 win (SAT)
CM: Josh Dasilva (Brentford) – 66>76 - 3 goals and 1 assist in 7-0 win (SAT)
ST: George Puskas (Reading) – 69>78- 3 goals in 3-1 win (SAT)
RW: Noa Lang (Ajax) – 68>79 – 3 goals in 5-2 win (SUN)
ST: Carlos Vinicius (Benfica) – 72>79- 3 goals in 4-0 win (SAT)