News
The latest TOTW news
FIFA 19 Team of the Week Prediction: Week 4
TOTW 4 predictions are here - Who makes the cut this week?
---
Hey guys, it's Tillian and it's TOTW predictions!
Already Week 4. Already nearly 1 month into new FIFA.

This upcoming TOTW looks interesting and it was hard to choose apart from few obvious players like Mbappe and Sabitzer.

Others are genuinely 50\50 picks, or even lower (see Cancelo is around 30% chance IMO, but wanna risk it).

Other than that: Laca or Auba. Both deserve their spots, both are good but Laca was MOTM.

Same debate between Higuain\Icardi. I opted for Higs as he has OTW.

Overall this ToTW looks decent.

So good luck with your FUT Champs rewards and I hope you'll pack someone good!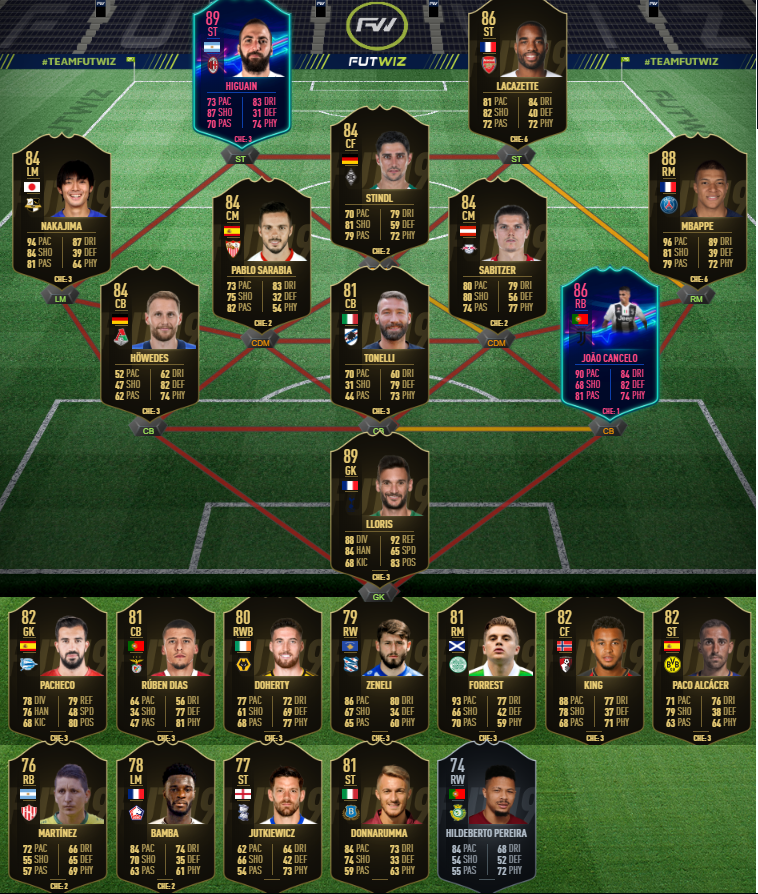 Starting 11:

GK:Hugo Lloris (Spurs) – 88>89– 6 saves in 1-0 win (SAT)
RB:Joao Cancelo (Juventus)– 81>84>86– 1 assist and motm and cs in 2-0 win(SAT)
CB:Lorenzo Tonelli (Sampdoria) – 77>81 – 1 goal and cs in 1-0 win(SUN)
CB:Benedict Howedes (Lokomotiv) – 81>84 –1 goal and cs in 1-0 win (SUN)
LW: Shoya Nakajima (Portimoense) – 77>81>84– 2 goals and 2 assists in 4-2 win (SUN)
CM: Pablo Sarabia (Sevilla) – 81>84- 1 goal and 1 assist in 2-1 win (SUN)
CM:Marcel Sabitzer (RB Leipzig) – 81>84 - 2 goals in 6-0 win(SUN)
CF:Lars Stindl (Borussia M'gladbah) – 81>84–1 goal in 3-0 win (SAT)
RW: Kylian Mbappe (PSG)- 87>88- 4 goals in 5-0 win (SUN)
ST: Alexander Lacazette (Arsenal) – 84>86– 2 goals in 5-1 win (SUN)
ST: Gonzalo Higuain (Milan) – 88>89- 2 goals in 3-1 win(SUN)
Subs:

GK:Pacheco (Alaves) – 79>82– 6 saves in 1-0 win (SAT)
RB: Damian Martinez (Santa Fe)- 67>77- 2 goals and 2 assists in 4-0 win (SAT)
CB: Ruben Dias (Benfica)- 78>82 – MOTM and CS in 1-0 win(SUN)
LM: Jonathan Bamba (Lille) – 71>78- 2 goals and 1 assist in 3-1 win(SAT)
RM: James Forrest (Celtic) – 76>81– 4 goals in 6-0 win (SAT)
ST: Joshua King (Bournemouth) – 79>82- 2 goals in 4-0 win (SAT)
ST: Paco Alcacer (BVB) – 79>82 - 3 goals in 4-3 win (SAT)

Reserves:
RM: Arber Zeneli (Heerenveen)– 81>80–3 assists in 5-0 win(SAT)
RWB: Matt Doherty (Wolves) – 74>80 - 1 goal and cs in 1-0 win (SAT)
RW: Hildeberto Pereira (Vitoria Setubal) – 63>74> 3 goals in 3-0 win (SAT)
ST: Lukas Jutkiewicz (Birmingham) – 68>77> 3 goals in 3-1 win (SAT)
ST: Alfredo Donnarumma (Brescia) – 75>81> 3 goals in 4-1 win (SUN)