News
The latest TOTW news
FIFA 19 Team of the Week Prediction: Week 26
TOTW 26 predictions featuring an 88 rated and 90 rated!
---
Hey guys, it's Tillian and it's TOTW predictions!

TOTW 26. Another decent TOTW incoming. Probably not filled with Superstars but overall with high enough and usable players.


There were a lot of decent performances from PL. For example Leno vs United, Sterling vs Watford, Mane\Firmino vs Burnley. I chose Firmino as Sterling occupied LM spot in my predictions.

Someone from Bayern must get in for 6-0 win over Wolfsburg. Either Kimmich or James

Ben Yedder, favorite of FUT players, scored 3 goals, so his SIF is nailed on.

Overall there are high rated players in every line: Brandt vs Hannover, Belotti for 2 goals, and others.

It's hard week to predict, because there were a lot of goals from different players. Many of those scored 2 goals, so you can expect that I'll miss someone.

Good luck with your rewards and as always try to have some fun!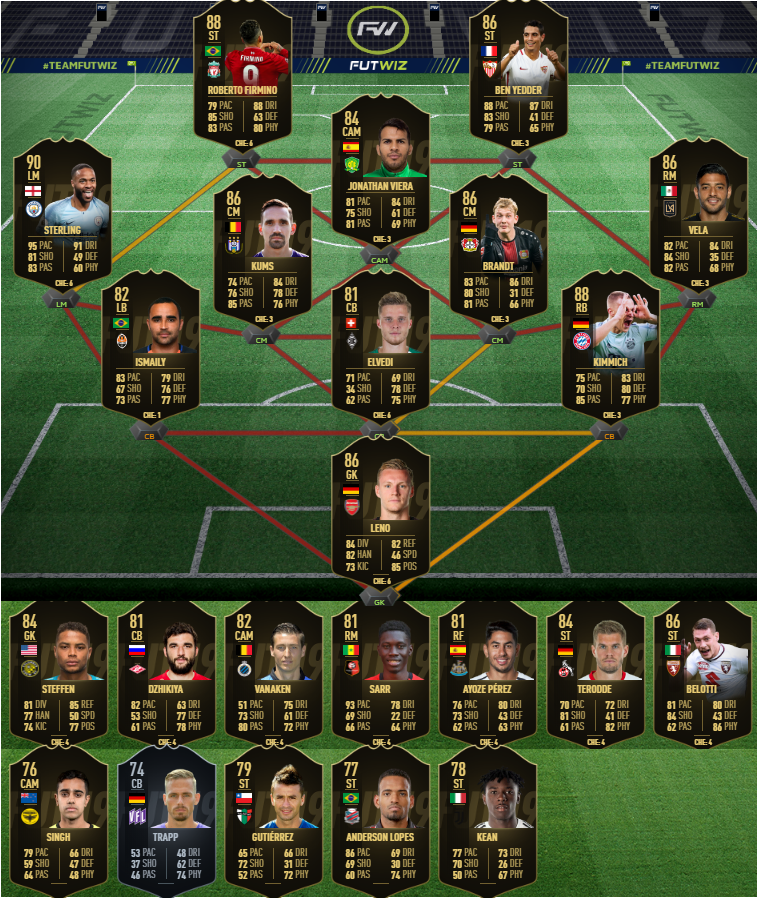 Starting 11:

GK:Bernd Leno (Arsenal) – 84>86 – 4 saves in 2-0 win (SUN)
CB: Ismaily (Shakhtar) – 79>82– 2 assists and cs in 5-0 win(SAT)
CB: Nico Elvedi (Borussia M'gladbah)- 77>81 – CS and 1 goal in 1-0 win (SAT)
RB: Joshua Kimmich (Bayern Munich)- 86>88- 1 goal and CS in 6-0 win (WEd)
LW:Raheem Sterling(City) – 87>>90– 3 goals in 3-1 win (SAT)
CM: Julian Brandt (Bayer 04) – 82>84>86 -2 assists in 3-2 win (SUN)
RM:Carlos Vela (LAFC) – 82>84>86 –1 goal and 2 assists in 4-1 win (SUN)
CM: Sven Kums (Anderlecht) – 77>>>86 - 2 goals in 2-0 win (SUN)
CF: Jonathan Viera (Bejing) – 82>84 -1 goal and 2 assist in 4-0 win (SAT)
ST: Wissam Ben-Yedder (Sevilla)– 81>>86–3 goals in 5-2 win(SUN)
ST: Roberto Firmino (Liverpool) – 86>87>88- 2 goals in 4-2 win (SUN)

Subs:
GK: Zach Steffen (Columbus) –76>81>84– 6 saves and pen save in 2-0 win (SUN)
CB:Georgiy Dzhikiya (Spartak) – 77>81 – 1 goal and CS in 1-0 win (SUN)
CAM:Hans Vanaken (Brugge) – 78>82 –2 goals and 1 assist in 4-0 win (SUN)
RM: Isamila Sarr (Rennes) – 77>81- 2 assists in 3-1 win (SUN)
RF: Ayoze Perez (Newcastle) – 76>81– 2 goals and 1 assist in 3-2 win (SAT)
ST: Simon Terodde (Koln) – 77>81>84– 3 goals in 5-1 win (SAT)
ST: Andrea Belotti (Torino)– 82>84>86– 2 goals in 2-1 win (SUN)

Reserves:
ST: Moise Kean (Juventus) – 72>79-2 goals in 4-1 win (FRI)
CB: Maurice Trapp (Osnabrueck) – 64>74 - 2 goals and cs in 3-0 win (SAT)
ST: Roberto Gutierrez (Palestino)- 72>79- 3 goals in 4-1 win (SAT)
CAM: Sarpreet Singh (Wellington Phoenix) – 65>76- 2 goals and 2 assists in 9-2 win (SAT)
ST:Anderson Lopes (Sapporo) – 70>77– 4 goals in 5-2 win (SAT)