News
The latest TOTW news
FIFA 19 Team of the Week Prediction: Week 12
It's TOTW prediction time!
---
Hey guys, it's Tillian and it's TOTW predictions!

Week 12 and it looks like average again. Apart from starting 11, even tho not all of them are good and I expect some wildcards as always, TOTW looks bad.

Some great performances again from Aspas and Werner, also Gnabry performed great again for Bayern. Dembele is a wild-guess, because he got MOTM vs Villarreal.

Torreira is a bit different. I can see him missing due to being 2nd player from Arsenal, so yeah, we might not see him.

Walter Benitez makes a return in my Predictions and now with a good chance with 8 on L'equipe.

As always – I wish you good luck in your player picks and rewards.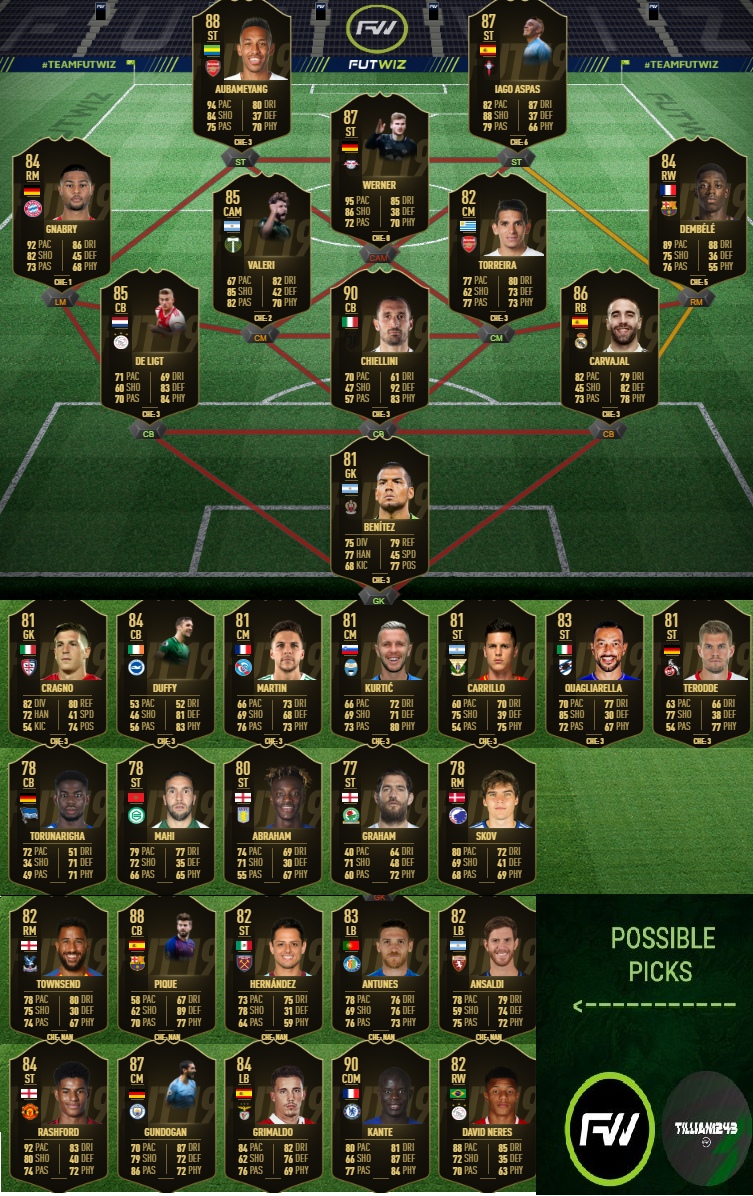 Starting 11:

GK:Walter Benitez (Nice) – 76>81– 4 saves in 0-0 draw (SAT)
CB: Matthijs De Ligt (Ajax) – 80>83>85– goal and MOTM in 5-1 win (SUN)
CB: Giorgio Chiellini (Juventus)- 89>90 – 1 goal and cs in 3-0 win (SAT)
RB:Dani Carvajal (Real Madrid) – 84>86 –MOTM in 2-0 win (SAT)
RM: Ousmanne Dembele (Barcelona) – 82>84– 1 assist and MOTM in 2-0 win (SUN)
CM: Diego Valeri (Portland) – 80>83>85- 2 goals in 3-2 win (WED)
CM: Lucas Torreira (Arsenal) – 78>82 -1 goal in 4-2 win (SUN)
RM: Serge Gnabry (Bayern)- 82>84- 2 goals in 2-1 win (SAT)
ST:Timo Werner (RB Leipzig) – 83>85>86>87–2 goals in 2-0 win (SUN)
ST: Iago Aspas (Celta Vigo)– 85>86>87–2 goals in 2-0 win(SAT)
ST: Pierre-Emerick Aubameyang (Arsenal) – 87>88- 2 goals and 2 assists in 4-2 win(SUN)

Subs:
GK:Alessio Cragno (Cagliari) – 75>81– 10 saves in 1-1 draw (SUN)
CM:Jasmin Kurtic (SPAL) – 75>81 - 2 goals in 2-2 draw (SAT)
CB: Shane Duffy (Brighton) – 76>81>84- 1 goal in 2-1 win (SAT)
CM:Jonas Martin (Strasbourg)– 75>81– 2 goals in 4-1 win (SUN).
ST: Guido Carillo (Leganes) – 75>81– 2 goals in 4-2 win (SUN)
ST: Fabio Quagliarella (Sampdoria) – 80>83– 2 goals in 4-1 win (SAT)
ST: Simon Terodde (Koln) – 76>81 - 2 goals and 2 assists in 4-0 win (SAT)

Reserves:
CB: Jordan Torunarigha (Hertha) – 70>78- 1 goal and 1 assist in 2-0 win (SAT)
ST: Mimoun Mahi (FC Groningen) – 72>79- 2 goals and 1 assist in 5-2 win(SUN)
ST: Tammy Abraham (Aston Villa)- 74>80- 4goals in 5-5 win (WED)
ST: Danny Graham (Blackburn) – 69>78- 3 goals and 1 assist in 4-2 win (SAT)
RM:Robert Skov (Copenhagen) – 72>78– 3 goals in 6-1 win(SUN)