News
The latest TOTW news
FIFA 19 Champions League TOTGS Predictions
It's Tillian and it's Team of The Group Stage predictions for Champions League
---
Hello, hello, it's Tillian and it's Team of The Group Stage predictions for Champions League.

We finally got a license for it and we'll get many cool dynamic images!

So yeah, I'm doing this after 5th matchday and only few teams aren't decided. Biggest Question Mark is group of death between Liverpool\Napoli\PSG. Also Spurs or Inter and Lyon or Shaktar.

So yeah, I tried to include players from the confirmed teams, but in "possible picks" selection – I've chosen players who still got a chance to go through or different players from confirmed team.

I didn't include Road To The Final Cards, just because I think they'll be excluded.

Let's do this?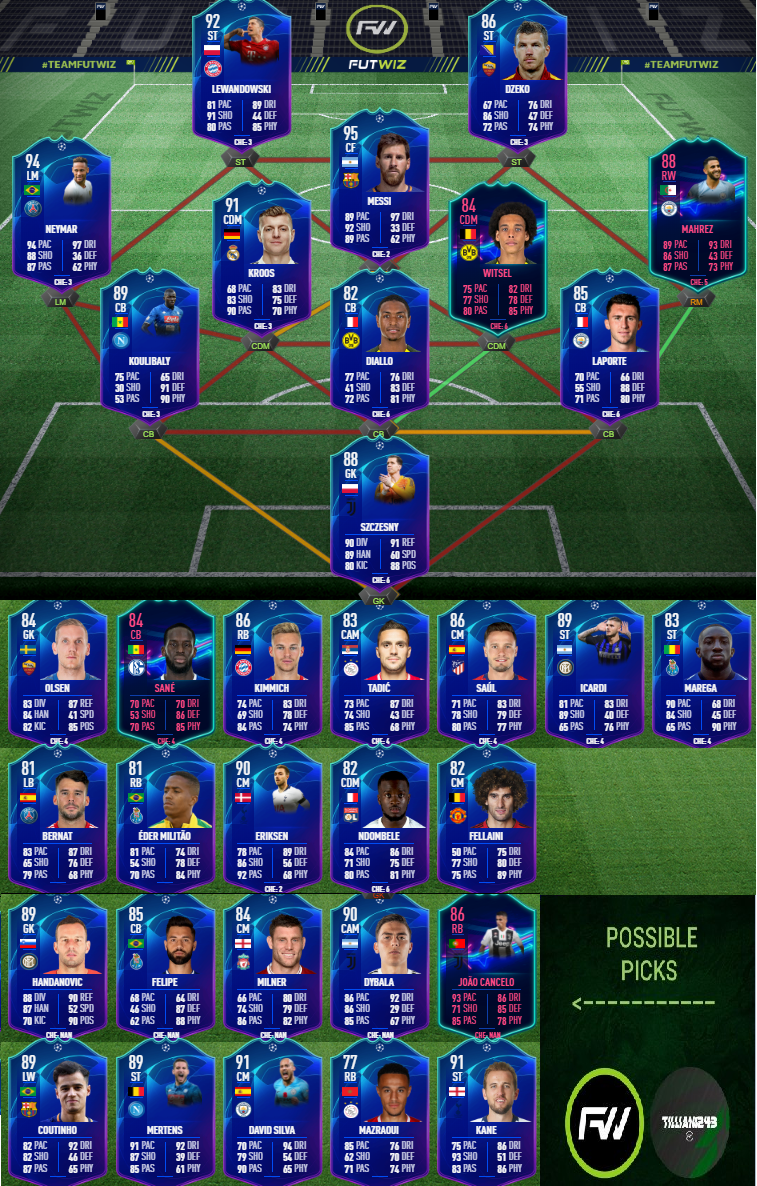 Starting 11:
GK:Wojczeh Szczesny (Juventus) – 84>88– One of the most impressive GKs in group stage for me. Performed every game and made some huge saves
CB: Kalidou Koulibaly (Napoli) – 87>89 – One of the several players from Napoli that deserve this spot. Koulibaly played amazingly well vs Liverpool and PSG, so he deserves this spot in my eyes
CB: Abdou Diallo (BVB) - 78>82 – Best defender from that group. Diallo performed amazingly for BVB in CL and IMO he deserves this spot
CB:Aymerick Laporte (Liverpool) – 83>85 – If not Laporte – City wouldn't be winning this group in my eyes. Laporte is the best City defender atm.
LM: Neymar (PSG) – 92>94– 4 goals and 1 assist in 5 games. Yes, a bit boosted stats due to game vs Crvena, but still playing exceptionally well.
CM: Toni Kroos (Real Madrid) – 90>91-1 goal and 2 assists in their run this season. Even though he did a mistake vs CSKA – he played really well in the rest of the games
CM: Axel Witsel (Spurs) – 82>84 -1 assist and best CM in that group alongside Saul. Played better in CL than in Bundesliga.
RM: Ryad Mahrez (Manchester City) - 85>88- 1 goal and 4 assists in 5 not full appearances. David Silva can get this spot, but Mahrez also deserves it.
CF:Leo Messi (Barcelona) – 94>95–Played 3 games, but scored 6 goals and 1 assist. Yeah, that's Leo Messi for you.
ST: Edin Dzeko (AS Roma) – 85>86–5 goals and 2 assists in 4 CL games. Roma going through because of him and Olsen.
ST: Robert Lewandowski (Bayern) – 90>92- 5 games 6 goals. Best Bayern player and actually carrying them through the hard times.

Subs:
GK:Robin Olsen (AS Roma) – 75>81>84–Roma's performance depended on him. Because of him Roma going to the next stage.
CB:Salif Sane (FC Schalke 04) – 81>84 – Schalke had 2 choices: Either Fahrmann, but he has RTF card, or Sane, who was a really good defender across all the games. I've went with Sane.
RB: Joshua Kimmich (Bayern) – 85>86- 2 assists. Joshua probably most consistent player for Bayern. Played at RB and CDM. Can get CDM card.
CAM:Dusan Tadic (Ajax)– 80>83– 3 goals and 1 assist across 5 games. Ajax finally got to knockouts stage since 2006. Young team overall played amazing, but Tadic was the leader of it in my opinion.
CM: Saul (Atletico Madrid) – 85>86– As Griezzy has RTF card I needed somebody else from Atletico to reflect their group-stage performance. In my opinion – Saul is the right man for it.
ST: Mauro Icardi (Inter) – 87>89– Scored 3 goals in 5 games, really important goals vs Spurs and Barca to keep Inter hopes alive.
ST: Moussa Marega (Porto) –80>83 – 4 goals and 1 assist. Marega performed well for Porto, which won their group 1st place.

Reserves:
LB: Juan Bernat (PSG) – 77>81- 2 goals. Surprised everyone, including myself, with great performances and 2 important goals.
RB: Eder Militao (Porto) – 76>81- 1 goal. Really great performance from Right-back. My 2nd choice from Porto. Also Felipe can get in.
CM: Tanguy Ndombele (Lyon)- 78>82- 2 goals. One of the best performances in Group Stage for Lyon. Young midfielder playing out of his mind and deserves a spots here.
CM: Christian Eriksen (Spurs) – 88>89>90- 2 goals and 1 assist. Played across 4 games and with Harry Kane has the best chance from Spurs to get in.
CM:Marouaine Fellaini (Manchester United) – 78>82– Brought as a sub on the most occasion actually won 6 important points for United and because of him United are through to the next round.