More football action this weekend.

Let's start of PL: 2 expensive transfers performed really well. Salah destroyed Arsenal and Morata ripped Everton to pieces.

Newcastle finally won and Mbemba did well!

Apart from PL- we move on to Bundesliga. Timo Werner continues his scoring form for Red Bull and Sahin scored a banger for BVB. Also Holger Badstuber didn't injure himself. Yet.

In La Liga we saw 2 goals from superstar Marco Asensio and also a super goal from Koke. Both deserved to be in TOTW.

In Calcio A Suso ran the show for Milan. Even after 12 transfers- he performs amazing in that squad.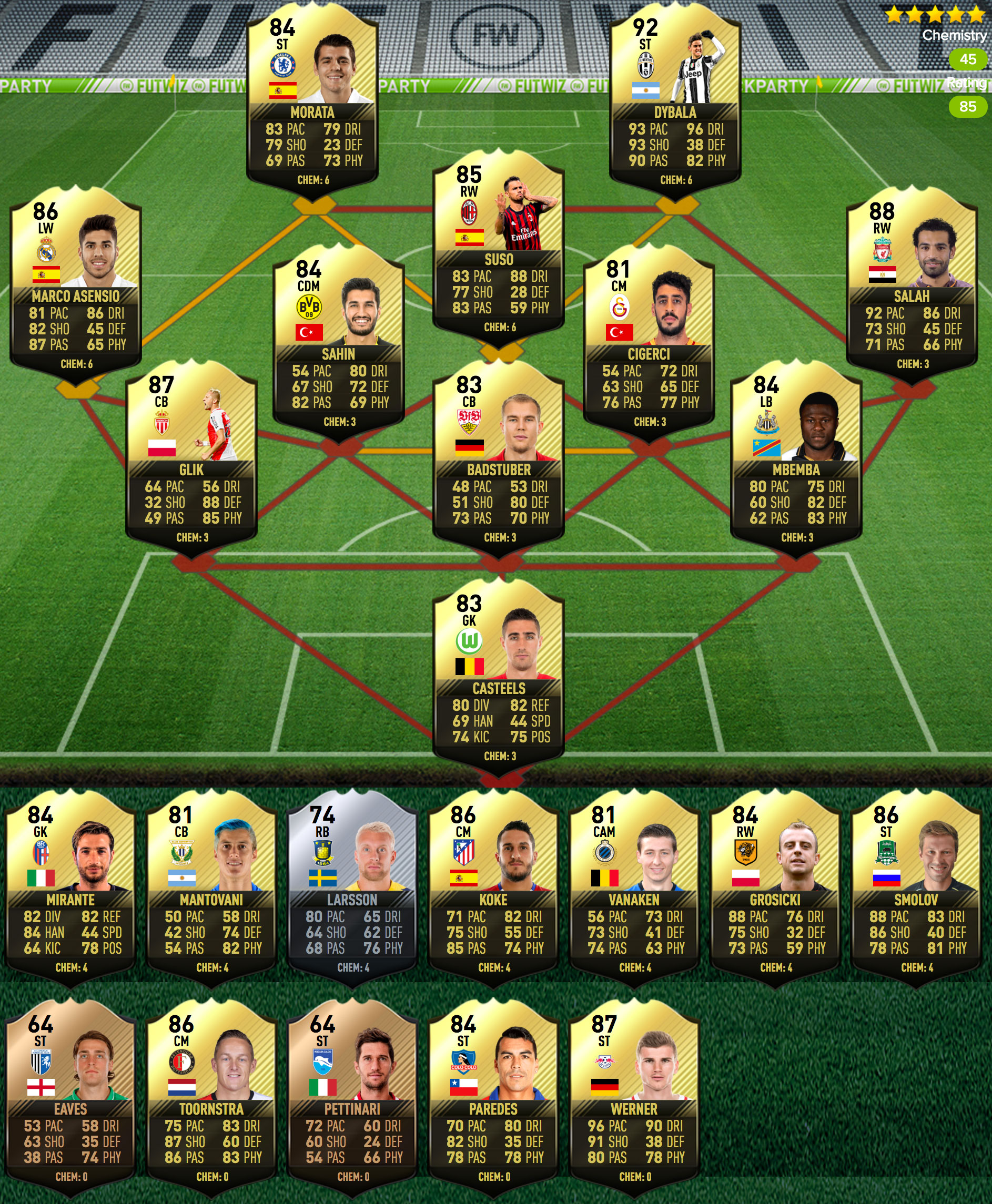 Overall this TOTW does look good, so have fun!

Starting 11:

GK:Koen Casteels (VLF Wolfsburg) – 78>82– 6 saves in 1-0 win (SAT)
RB:Johan Larsson (Brondby IF) – 71>74– 1 goal and cs in 2-0 win (SUN)
CB:Holger Badstuber (Stuttgart VfB) – 79>83– 1 goal and cs in 1-0 win (SAT)
CB:Kamil Glik(Monaco AS) – 84>86>87- 1 goal and 1 assist in 6-1 win (SUN)
CDM:Nuri Sahin(BVB) – 80>84– 1 goal and 1 assist in 2-0 win (SAT)
RM:Mohamed Salah(Liverpool FC) –82>88– 1 goal and 1 assist in 4-0 win (SUN)
CM:Tolga Cigerci(Galatasaray SK) – 75>81- 2 goals and 1 assist in 3-0 win (FRI)
LW:Marco Asensio(Real Madrid) – 82>84>86- 2 goals in 2-2 draw (SUN)
CAM:Suso(AS Milan) – 80>83>85- 1 goal and 1 assist in 2-1 win (SUN)
ST:Alvaro Morata(Chelsea FC) – 82>84>86- 1 goal and 1 assist in 2-0 win (SUN)
ST:Paulo Dybala (Juventus) – 86>…>92- 3 goals in 4-2 win (SAT)

Subs:

GK:Antonio Mirante(Bologna) – 81>84– 5 saves and cs in 1-0 win (SUN)
CB:Martin Mantovani (Leganes) - 75>81– 1 goal and cs in 1-0 win (SAT)
LB: Chancel Mbemba(Newcastle United)- 77>81> 84- 1 goal and cs in 3-0 win (SAT)
CM:Koke(Atletico Madrid)– 84>86– 2 goals in 5-1 win(FRI)
CAM:Hans Vanaken (Club Brugge) – 76>81– 2 goals and assist in 4-0 win(SUN)
LW:Kamil Grosicki (Hull City) –77>82>84- 2 goals and 1 assist in 4-0 win (SAT)
ST:Fedor Smolov(Krasnodar) – 79>82>84>86- 2 goals in 2-0 win(SUN)

Reserves:

CM:Jens Toornstra(Feyenoord)- 76>...>85 – 2 goals in 5-0 win(SAT)
ST: Stefano Pettinari (Pescara)-61>64 – 3 goals in 5-1 win(SAT)
ST: Timo Werner(RB Leipzig) – 77>...>87 – 2 goals in 4-1 win(SUN)
ST: Esteban Paredes(Colo-Colo) – 75>...>84 – 3 goals in 4-1 win(SUN)
ST: Tom Eaves(Gillingham) – 63>64- 3 goals in 3-3 draw(SAT)
Marquee Matchups Predictions - June 12th
<p> <span initial;">Hey guys, it's Tillian and it's Marquee Matchups predictions!</span>

08/06/2018 06:47pm | TOTW
FIFA 18 Team of the Week Prediction: Week 38
Hey guys, it's Tillian, it's Predictions and it's TOTW time

04/06/2018 07:01pm | TOTW
Marquee Matchups Predictions - June 5th
<p> <span initial;">Hey guys, it's Tillian and it's Marquee Matchups predictions!</span>

04/06/2018 06:53pm | TOTW