News
The latest TOTW news
FC 24 Team of the Week Predictions: Week 9
---
Hello and welcome to Team of The Week Predictions #9. Decent week in terms of predictions, but I hope that this week will be better. Overall, there were some decent performances over the weekend and we should see some good cards with new TOTW upgrades. It's good, that they are changing TOTW and hopefully, it'll make TOTW more valuable, but at the same time – I'm sad that there are no red picks, when there are better IFs in packs.
Main stars of this weekend are: Rodrygo with crazy game vs Valencia, probably his best performance in RM shirt. I hope we'll get Sane for another crazy performance, because EA can't keeping get away with it, they just can't. It should be this week, if not – then he should win POTM. Benzema also scored 3 goals this weekend and should get decent card, plus he has that tasty Playstyle+ with Finesse Shots. Beautiful Aitana Bonmati, Ballon D'or winner, had a great game for Barca and might get a very good TOTW, that should be equal to her Centurions card (which would be funny). And yeah, I'm not including Mbappe, because Donnaruma got 9 from L'equipe, while Mbappe 8. It's crazy, but I have to go with Donna. Sorry. Maybe EA will go with Mbappe, but imo not.
Moving on: DiMarco scored wonderful goal for Inter and kept CS. If you haven't seen that goal – go and watch it. Right now! I'll wait. But yeah, apart from him: Tsimikias with 2 assists for Liverpool and kept CS. Solanke scored 2 goals, Sarabia crushed Spurs dreams. A lot of performances from PL, but no very big players. Apart from that – Bayer continues their crazy run and won another game with 4-0 result. And some more players, but you'll see later for the reasons.
Overall, very solid TOTW, hopefully bigger boosts, so let's hope the released one will be close to my predictions. (and maybe they'll include Mbappe)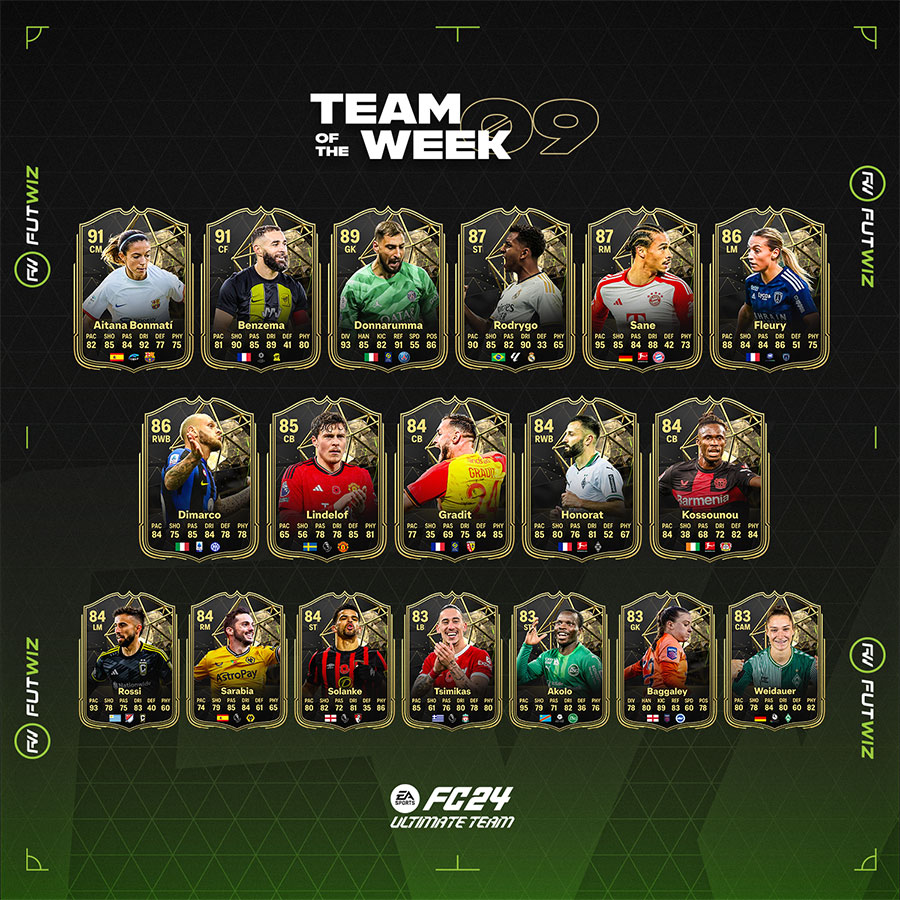 Starting 11:

GK: Gianluigi Donnarumma (PSG) - 87>89 - 7 saves in 3-0 win (SAT)
LWB: Federico Dimarco (Inter) – 82 >> 86 – 1 goal in 2-0 win (SUN)
CB: Jonathan Gradit (Lens) - 78>84 – Goal and MOTM and cs in 1-0 win (SUN)
CB: Victor Lindelof (Manchester United) – 80>85 – 1 goal and cs in 1-0 win (SAT)
LB: Kostas Tsimikas (Liverpool) – 77>84 –2 assists and cs in 3-0 win (SUN)
CM: Aitana Bonmati (Barcelona) – 90 > 91 –2 goals in 6-0 win (SAT)
CM: Pablo Sarabia (Wolves) – 78 > 84 – 1 goal and 1 assist in 2-1 win (SAT)
LM: Louise Fleury (Paris FC) – 78 >> 86 – 3 goals and 1 assist in 6-1 win (SAT)
ST: Karim Benzema (Al Ittihad) - 90 > 91 - 3 goals and 1 assist in 4-2 win (FRI)
ST: Rodrygo (Real Madrid) – 85 > 87 – 2 goals and 2 assists in 5-1 win (SAT)
RW: Leroy Sane (Bayern) – 84 > 87 – 2 assists in 4-2 win (SAT)


Subs:

GK: Sophie Bakkaley (Brighton) – 63> 83 – 13 saves and CS in 1-0 win (SAT)
CB: Odilon Kossounou (Bayer) - 76 > 83 – 1 goal and cs in 4-0 win (SAT)
LW: Diego Rossi (Columbus) - 76>84 - 1 goal and 1 assist in 4-2 win (SAT)
RWB: Frank Honorat (Borussia Monchengladbach) - 76>84 – 1 goal and 1 assist in 4-0 win (SAT)
ST: Sophie Weidauer (Bremen) - 70 > 83 – 3 goals in 5-0 win (SAT)
ST: Dominic Solanke (Bournemouth) – 75 > 84 – 2 goals in 2-0 win (SAT)
ST: Chadrac Okolo (St. Gallen) - 69 > 83 - 3 goals in 4-2 win (SAT)