News
The latest TOTW news
FC 24 Team of the Week Predictions: Week 8
---
Hello and welcome to Team of The Week Predictions #8. Last week was good in terms of predictions, felt like my best week so far, so let's hope it'll continue with this week's predictions. A lot of decent performances, maybe not your usual stars, but we should get some cool cards.
Main stars of this weekend are Doku with whooping 5 G\A in 1 game vs Bournemouth. He assisted 4 times and got 1 goal, probably one of the best performances in Prem this season. Upamecano or Sane from Der Klassikier. Bayern went on a mad one, and I can't include Kane as he was in previous TOTW (Sane would be a better choice last week), so it's either Sane or Upa. Sane got 2 assists, while Upamecano got 1 goal and kept CS. Both can be in, let's see who EA chooses.
Moving on: Hakan had a beautiful game for Inter vs Atalanta, scored a goal and was named MOTM. Hakimi got 2 assists for PSG, let's see if they won't include him again, he's long overdue an IF. Joelinton for a game vs Arsenal. Controversial one, but still should be in, as he was good. Grimaldo scored 2 goals vs Hoffenheim in very good game that finished 3-2. Grimaldo probably one of the signings of the season. 6 times in Kicker TOTW already. Ter Stegen had a good game for Barcelona vs Real Sociedad and kept crucial Clean Sheet in important game. GOLOVIN scored and assisted once again, he's playing fantastically this season and it's so good to see. Maybe he'll leave to a bigger club in the next transfer window.
Moving on to Women, I included 2: Diani scored 2 and assisted 1 for Lyon, should be one of the better cards in TOTW, if she'll get in. And other player is Salma Paralluelo from Barcelona. She scored 4 goals in 39 minutes, should be getting featured card. Hansen is fair choice with 1 goal and 3 assists too, so it'll be even better if 90 rated Hansen would get an IF, but Salma would be my first choice.
Overall, very solid TOTW, it's good to see, so let's hope the released one will be close to my predictions.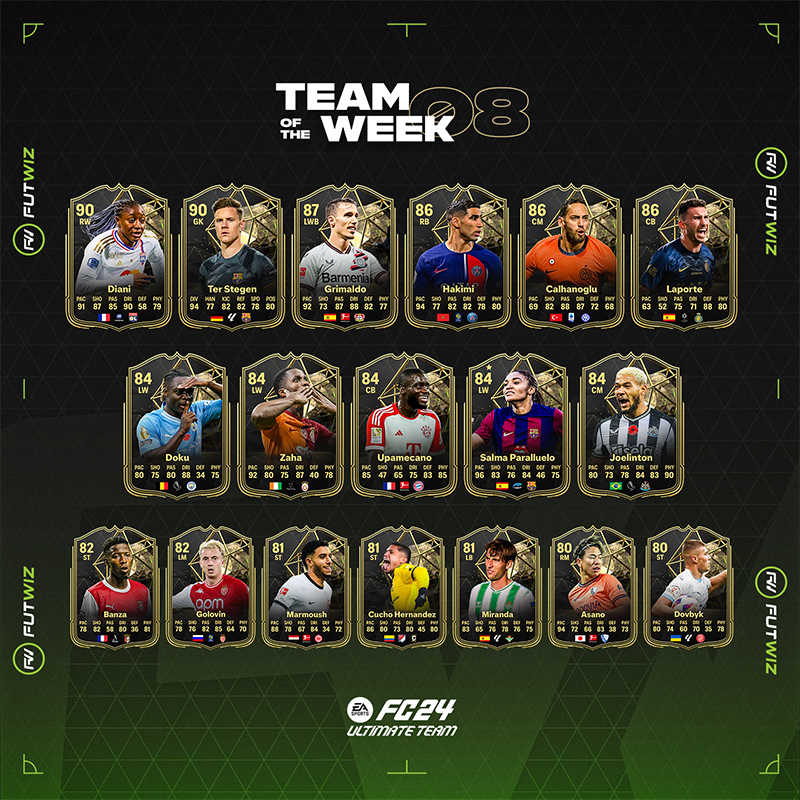 Starting 11:

GK: Marc Andre Ter Stegen (Barcelona) - 89>90 - 7 saves in 1-0 win (SAT)
LWB: Grimaldo (Bayer) - 84 >> 87 – 2 goals in 3-2 win (SAT)
CB: Dayot Upamecano (Bayern) - 82>84 – Goal and MOTM and cs in 4-0 win (SAT)
CB: Aymeric Laporte (Al-Nassr) – 85>86 – 1 goal and cs in 2-0 win (THU)
RB: Ashraf Hakimi (PSG) – 84>86 –2 assists and cs in 3-0 win (FRI)
CM: Joelinton (Newcastle) – 82 > 84 –1 assist in 1-0 win (SAT)
CM: Alexander Golovin (Monaco) – 79 > 82 – 1 goal and 1 assist in 2-0 win (SUN)
CM: Hakan Calhanoglu (Inter) – 85 > 86 – 1 goal and MOTM in 2-1 win (SAT)
LW: Jeremy Doku (Man City) - 77 > 84 - 1 goal and 4 assists in 6-1 win (SAT)
ST: Kadidiatou Diani (Lyon) – 89 > 90 – 1 goal and 2 assists in 6-1 win (SUN)
LW: Salma (Barcelona) – 79 > 84 - 4 goals in 8-0 win (SUN)


Subs:

LB: Miranda (Betis) – 77> 81 – Assist and CS in 2-0 win (SUN)
ST: Cucho Hernandez (Columbus Crew) - 76 > 81 – 2 goals in 2-0 win (WED)
LW: Wilfred Zaha (Galatasaray) - 81>84 - 2 goals in 2-1 win (SAT)
RM: Takuma Asano (Bochum) - 74 > 80 – 2 goals in 2-1 win (SAT)
ST: Simon Banza (Braga) - 77 > 81 – 3 goals and 1 assist in 6-1 win (SAT)
ST: Artem Dovbyk (Girona) – 70 > 80 – 1 goal and 2 assists in 4-2 win (SAT)
ST: Omar Marmoush (Eintracht) - 75 > 81 - 2 goals in 3-0 win (SAT)