News
The latest TOTW news
EAFC: Eredivisie Player of the Month Predictions - October
---
Hello and welcome to Eredivisie Player of The Month Prediction for October. Fun month, especially for big teams. PSV, AZ and Feyenoord continued their winning streaks, while Ajax continues to be in the mud. We don't speak about those, so let's talk about those who performed at highest level.
It's hard to choose player from PSV for this nomination, so I went with Jonas Bakayoko. Winger scored 2 goals and got 2 assists in 3 games over the month and overall, he's the next big thing from Eredivisie. A lot of clubs already in line for him and he's showing why weekly. This month he scored 1 goal and got 1 assist in 3-1 win over Fortuna, got 1 goal in 4-0 win vs Sparta and got 1 assist in 3-1 win over Volendam. Good month, but doubt he'll win, because 2 other players got more contributions. His Potential POTM would be 84 rated one and would cost around 35k for him. Would it be worth completing him, if he wins? For sure, he should be very fun super sub.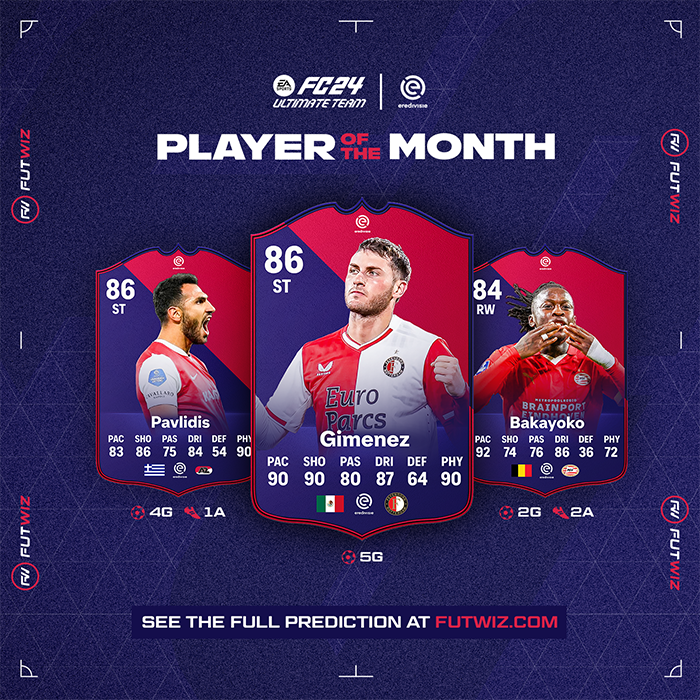 Another choice for me is Santiago Gimenez. Last month he already won the award and this month he has a chance for double swoop. He played fantastically once again. 4 goals and 1 assist this month. He scored 1 goal and got 1 assist vs Vitesse, 2 goals vs Zwolle in 2-0 win, and got 1 goal in 3-1 win over GA Eagles. Gimenez, if he wins, he'll be 86 or 87 rated POTM with some decent stats. I expect him to be cheap and affordable, around the same as last POTM.
And the last, but not least is Vangelis Pavlidis from AZ. They also won 3 games this month and Vangelis scored 5 goals this month: 3 in 3-0 win over Heerenveen, 1 goal in 2-1 win over Ajax and 1 goal in 4-0 win over Fortuna. Vangelis will get an IF and his potential POTM would be even better one. Hard to link, but us, Eredivisie enjoyers, will complete him anyway. I expect him to be around 40k, and would be fun sub for some of us.
Overall, it's hard to decide between Gimenez and Pavlidis, but as Gimenez already won last POTM – I'd go with Pavlidis for this one. Cheap, fun and just got an IF, so double upgrade would be kinda nice.