We have enabled comments on the site. Why not leave a comment and share your thoughts about this player?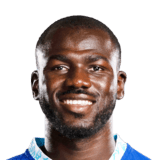 Koulibaly
CB
Positions: CB
Kalidou Koulibaly 87 World Cup In Game Stats
---
Power Header
Lengthy AcceleRATE
basic - hunter - catalyst - shadow - sniper - finisher - deadeye - marksman - hawk - artist - architect - powerhouse - maestro - engine - sentinel - guardian - gladiator - backbone - anchor
Explosive AcceleRATE
Controlled AcceleRATE
Kalidou Koulibaly 87 World Cup Price Graphs
Lowest Sale

Highest Sale

Average BIN

Last Sales
Average Auction

Last Sales
This item is Kalidou Koulibaly World Cup , a CB from Senegal, playing in World Cup. Koulibaly FIFA 23 is 31 years old and has 2* skills and 4* weakfoot, and is Right footed. Koulibaly's price on the xbox market is 0 coins (Never ago), playstation is 0 coins (Never ago) and pc is 0 coins (Never ago). There are 3 other versions of Kalidou Koulibaly in FIFA 23, check them out using the navigation above.
Comments