It's maybe a little too early for this, but it's already the middle of April, so I decided to start doing predictions for big leagues (not only them, by the way)
It's maybe a little too early for this, but it's already the middle of April, so I decided to start doing predictions for big leagues (not only them, by the way).
So, at first, I'm gonna do the most popular league in the world: Premier League.
It's gonna be hard to make a perfect prediction, near impossible. But I'll try to do my best.
Before I start, I ask for excuse for any fan of the team I offended by not including their favorite players in this TOTS. Of course, I'm gonna miss somebody, as I haven't watched every single game, and there are a lot of good performers this year.
Let's start this.
At first, I'm gonna say, that, there will be a lot of Chelsea and Spurs players. Not so many others, but this 2 teams will lead the line.
---
Goalkeepers
Starting with Goalkeepers- I've chosen 3 goalkeepers. Hugo Lloris, Tom Heaton and Jordan Pickford.
Hugo Lloris – One of hardest choices in this predictions. I've chosen 3 goalkeepers from 3 tier of teams. Out of Top 8 it's either Hugo, David De Gea or Courtouis. All of them can get it, but I've decided to go with Lloris.
Second one – Tom Heaton. Tom Heaton is instrumental part of Burnley great defense and their success at home this season.

Last one – Jordan Pickford. Crucial player for Sunderland, even tho they will get relegated, if it wasn't for him- they'd be already in Championship back in December.

Now. Defenders.
---
Defenders
Starting with RB position: Antonio Valencia. Amazing season as right-back in a very solid defensive Manchester United side. Probably would've been Coleman, if he wouldn't be injured for the 1/3 of season.

Central Backs: Starting with David Luiz and Virgil Van Djik.

David Luiz had an impressive year at Chelsea in 3-4-3 formation, scoring few goals, and named by few experts one of the best defenders in the league.

Virgil Van Djik. Everybody wants this player in their club. Chelsea, City and Liverpool are already starting bid war for him. Amazing season in overall average season for Southampton. Their best player and one of the best in the league.

In the subs and reserves I'd put: Vertonghen and Azpilicueta.

Cesar Azpilicueta- same reason as David Luiz, he was amazing in 3-4-3 and wide-centralback role suited him really well. Having few really good months in a row really contributed to my pick.

Jan Vertonghen – maybe a strange pick for someone. Imo, Spurs defense was even better and impressive than Chelsea one, but a standout for me was Jan. Toby Alderweirld had a great year too, but imo, it's already common that Toby has a great year. So my pick here for his partner in crime, Belgium Bro: Jan Vertonghen.

Next up: Left-Backs.

Probably one of the most interesting positions this year. Marcos Alonso, Danny Rose, and probably, James Milner. I'd actually need to pick 2 out of 3, because it'd be too much LBs and overall defenders in this 23-man squad.

So my choices are Marcos Alonso and James Milner.

Even tho both of those players not originally LBs, both of them played an amazing season. Marcos Alonso one of the surprise players this year for me. Scoring on multiple occasions, assisting goals and contributing to Eden Hazard great performance from LWB position is impressive.

James Milner. Probably one of the most so-so choices. James was probably the best LB in the league until January hit. He scored every penalty this year, he assisted many times, and overall his performance was good. Even though he wasn't as impressive in his second part of the season, he's a really good Central Midfielder, that played in not his natural position for the whole season.

Next up: Midfielders. I'll go with 4-4-2 formation for starting 11.
---
Midfielders
LM: Hazard. No doubt. Best player in Premier League this year. Probably, POTY. After rough year he came back even stronger than before, going closer to the best players in the world. Conte made him an amazing versatile player, that can do many things on the pitch and play even Striker.

CMs: Dele Alli and N'golo Kante.

Dele Alli. Oh god, one of the best young players in the world. One of the most expensive, already @ 20 years old. 16 goals (14.04.2017) in the league and probably most impressive second season in the league, after Harry Kane.

N'golo Kante. No words. Best holding midfielder in the league. Only scoring 1 goal and 1 assist, his contribution is impressive without those numbers. Probably can even make Sunderland Champions League side( probably not, but I'd like to see him trying).

RM: Sadio Mane. You all must now say: Hey,you excluded Coleman for missing 1\3 of the season, but including Mane, even when he's missing around 14 games( 8 at the end of the season and around 6,when he was at AFCON). Yes, I'm including Mane. Best Liverpool player of the season, if they finish top-4, I can't exclude him. Probably top-3 transfers in the summer of 2016, in the Premier League.

Bench and Reserves. I'd go with: Gylfi Sigurdsson, David Silva, Ander Herrera, Christian Eriksen and Idrissa Gueye.

Gylfi Sigurdsson. If Swansea stay up in the Premier League- they should make a statue of Islandic son. Best Swansea Player. Carrying team on his back. No words, just overall huge year for Gylfi. Imo he deserves it.

David Silva. Strange pick, I know. Not so impressive by the look at the stats and everything. But the things he's doing on the pitch… Guardiola named him one of the best players he worked with. He's instrumental part of Man City.

Ander Herrera. Breakthrough year for Spaniard. Amazing holding midfielder. Many people compare him to Kante this year, but Ander Herrera probably doing more impressive work for Manchester United. Overall, probably most important player for Manchester United, maybe even more than Zlatan( I know, he disagrees with me).

Christian Eriksen. Not so sure choices. Had an amazing middle of the season, with a slow start, but overall contributing hard to Spurs success, with huge number of assists and goals. If he'll have a strong finish to season- he should be in this TOTS.

Idrissa Gueye. Top 2 Everton Players this year. Another Kante-esq style of player. Impressive what he's doing and doing in Everton. Everyone knows him and even though he had some rough performances this year, he should be in no matter what.

Now to the strikers. I put my self in a trap. I need to get 4 picks out of 5 strikers I've chosen. But! I actually will put 24 players, as I think at least one TOTS player will be in SBCs. So 5 strikers. Here we go:
---
Atackers
Diego Costa, Zlatan Ibrahimovic, Alexis Sanchez, Romelu Lukaku and Harry Kane.

Do I even need to explain myself?

Well, actually I do.

Alexis Sanchez. One Arsenal Player that giving his best all the season. Scoring most of Arsenal goals, trying to create chances, arguing with teammates. Something out of these is not actually helping. Well, without jokes, best Arsenal player and fully deserves his TOTS.

Zlatan Ibrahimovic. Oh, what a United season would've been without him. He contributed to around 50% of the goals of the team. Or even more. At the age of 35, in Premier League. That's very impressive. So, without a doubt, guaranteed TOTS.

Next up: Romelu Lukaku. Top goal scorer in the league, while not performing so well vs big teams, he contributed a lot for a great,as Ronald Coeman said, season for Everton.

Harry Kane. Best English striker, without a doubt, scoring goals with amazing minute per goal ratio. Even tho, Spurs didn't struggle without him, he's really important for Spurs. "He's one of us".

Last one, probably the most not-so sure choices. He has an amazing season, yes. Scoring a lot of goals. Yes. Most important Chelsea player? No. Deserves TOTS? Yes. Do you have other choices for this position? Yes.
As you can see- Costa not 100% player for me, even Aguero and Defoe performs really well. But Defoe.. I wouldn't include 2 players of 20th team and Aguero- is a rough one. So I've chosen Costa.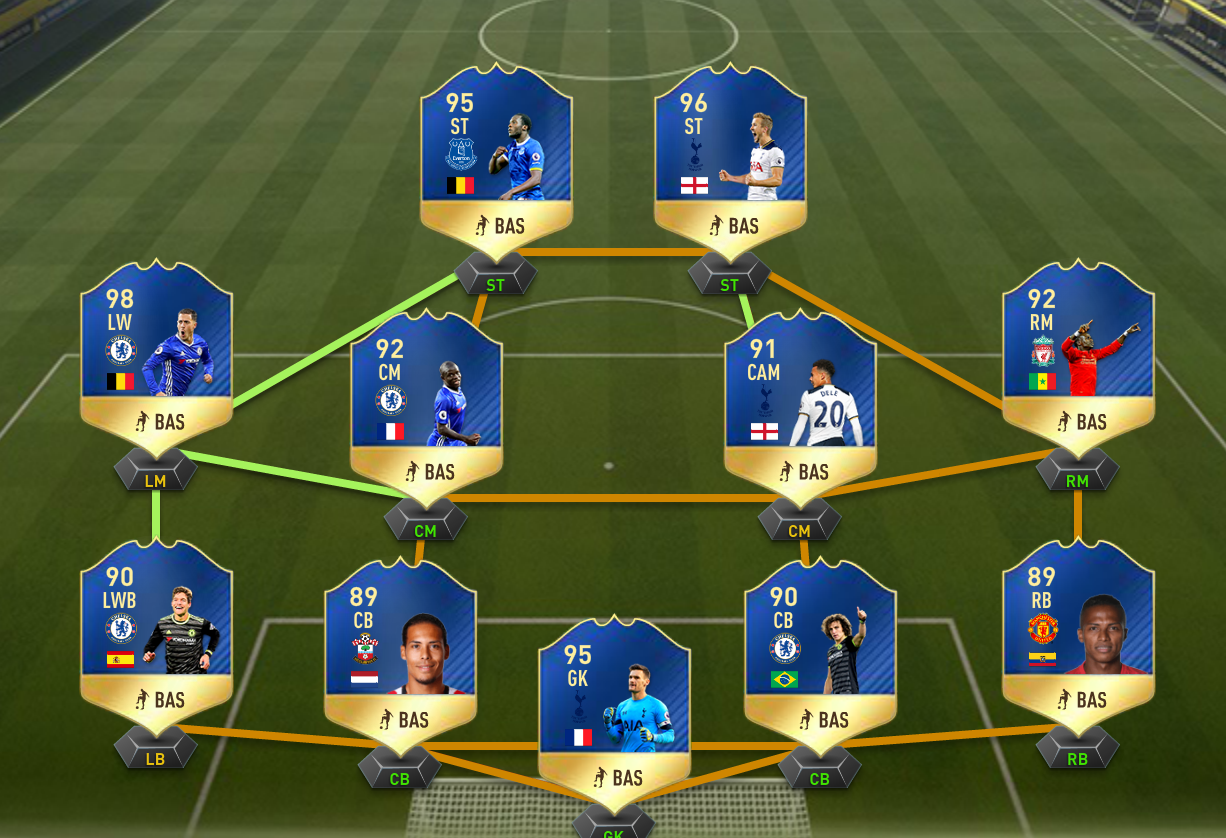 Few more choices, that could be in TOTS, but not in my predictions:

-De Gea
-Courtouis
-Keane. Best English Defender in prem. Huge season for Burnley, but already have Heaton.
-Lallana. Amazing first half of the season, not so great second part of the season.
-Alderweirld
-Coleman
-Rose
-Defoe
-Aguero
-KDB. Great season, but not as great as last one and he didn't get a TOTS last year. So yeaah,not sold on this one.
-McAuley. Amazing season for West Bromwich. But not TOTS- level for me. But can be in.
-Wanyama. Overall great season. Will get, probably, most consistent TOTS.

Others are mentioned in the article, so I don't need to explain myself twice.
So overall: One of the best year for PL TOTS. So many different picks, as you can see. So many different opinions. As for 14th of April 14, 2017, I've chosen this TOTS. Many of this picks depend on which position team will finish, so It's not 100%.

But overall, thanks for reading, and I hope you enjoy it.