Hello, hello! :D I'm closing my cruise of top-5 leagues with the latest prediction of Ligue 1 - I can foresee my predictions being either awesome or abysmal. Although I haven't watched every game this season, I did catch quite a few top quality Ligue 1 games.
Hello, hello! :D I'm closing my cruise of top-5 leagues with the latest prediction of Ligue 1 - I can foresee my predictions being either awesome or abysmal. Although I haven't watched every game this season, I did catch quite a few top quality Ligue 1 games.

The rules: only 6 player max per squad. So no 10 player squads from Monaco as some of you would like to see.

Starting with the Goalkeepers as per usual.

---
Goalkeepers
Stephane Ruffier
.
Statistically, he's the best keeper in the league and always plays to a high level. 9 clean sheets in 22 games, 67 saves. He's really good in game, so it'll be interesting for French team users.
Next up is
Yohann Pele
15 clean sheets in 31 games - amazing record for an old Marseille keeper. Overall Marseille are having a great season with their new manager for the season, Rudy Garcia.
It terms of FIFA: 1.96m tall, will be a good keeper to try, but he can be a silver one so there's no point.
Last goalkeeper is
Anthony Lopes
.
11 clean sheets in 30 games, I would place Subasic here, but the rules are the rules, so Anthony Lopes will get the 3
rd
keeper spot. Really good keeper for Lyon, but still number 2 in Portugal's national squad.
In terms of FIFA: Bad due to his height of 1.84m.
Now we move to the defenders.
---
Defenders
Starting with the Central Defenders.
Kamil Glik
is having a wonder season for Monaco (well, every player from Monaco is having a wonder season). 5 goals, 2 assists, amazing season overall. Highest rated defender by many rankings, so why question his TOTS Spot, let's go to the next one!:D
Loic Perrin
. Loic Perrin TOTS will be next level imo in terms of FIFA defender. He scored 4 goals, won 32 tackles, made 52 interceptions, 117 clearances and 17 blocks. Playing well as always!
In terms of FIFA: Will likely be club-80 defender, just not the tallest at 1.81m. Still, he'll be great in game.
Dante
is my third choice for the central defender position. Nice is possibly the best club for players who have had a bad season or two (or more). This guy is amazing! He occasionally makes mistakes, but that's Dante for you. Won 24 tackles, made 28 interceptions, 151 clearance and 22 blocks. Damn, he's good.
In terms of FIFA: Will be really good with a huge pace boost, but I'm unsure whether they'll give him +10 pace. If he gets it, he'll be rock solid.
Benjamin Mendy
has played "only" 22 games this season for Monaco, but his performance in those has been solid. 5 assists for a left-back is really good, and having a high rating for left back helps his case.
In terms of FIFA: There are already many good French left backs, but I'd suggest trying him out because why not?
Fernando Marcal
is highest rated left back in Ligue 1 and I understand why: 7 assists, 53 tackles, 65 interceptions, 121 clearance, 10 blocks. Not much to say, just really good.
In terms of FIFA: Really good defensive left back from Brazil. Yes, we already have Marcelo, but not everyone likes to use him, so you have a choice here.
Ricardo Pereira
is the right back for the team. I wanted to add Meunier but he has only played 17 games out of 31 and I don't know if that's enough, as that's quite a few missed games. One goal, 3 assists, 43 tackles, 27 interceptions, 67 clearances and 3 blocks. I understand that he was injured for a quite some time and that can be a deciding factor for him not getting TOTS, but I hope that he does.
In terms of FIFA: Amazingly good in game. His TOTS (if he gets one) will be bloody insane.
That's all for the defenders, so let's move on to midfield.
---
Midfielders
Morgan Sanson
is my first choice. He got Most Consistent TOTS, so he deserves his TOTS spot. He assisted 13 times in 2 teams, scored 4 goals and played well overall! Not much to say, other than that he's pretty much a lock.
In terms of FIFA: Club 80 player, will be amazing. Can't wait to try him out!
Fabinho
is the second choice of CM with 8 goals, completed 1352 passes, and an accuracy of 84%. Really amazing season for the Brazilian. He's already a hyped up player and I really can't wait until his TOTS.
Because in terms of FIFA: He will be one of the better CDMs in Ligue 1. And not just Ligue 1, but all of Brazil. Can't wait!
Jean Michael Seri
is my third choice. It's been a great season for the Ivory Coast player - he became one of the stars of the Nice team with 6 goals, 9 assists, 64 chances created, 1995 passes and 90% pass accuracy. I can't sing enough praises for this little man (1.68m)
In terms of FIFA: Will probably be a club 80 player, so I'll be interested to test him out, especially since I didn't try his IF.
And then we have
Wylan Cyprien
as his team mate not only in Nice, but also in this squad.
8 goals, 3 assists, really high ratings everywhere. Missed the last games due to his injury, but still 28 games should be enough for his TOTS.
In terms of FIFA: He has been called another Kante, but his TOTS will make him even better. He's really good in game - we just need EA to buff Stamina!
Marco Verratti
is the next one! The Italian is having an amazing season in PSG, praised by many, even Iniesta! 2 goals, 4 assists, both defensive and offensive work, so I think he's a guaranteed TOTS.
In terms of FIFA: Club 80 most likely… He's another player from Ligue 1 with 80+ ratings and 4* skills, but he isn't for everyone. Can't say we'll see more of him.
Corentin Tolisso
is surprisingly only the 2
nd
player from Lyon in this TOTS. Scored 8 goals, assisted 4 times, 84% pass accuracy. Can't see him not getting in TOTS, because he's so hyped up and really good in FIFA.
In terms of FIFA: Could push for club 90 if the stats are good. Great linking with Lacazette.
Ryad Boudebouz
will be the last Central Midfielder in this TOTS. 8 assists, 10 goals, created 98 chances on average Montpellier side, so I expect him to make TOTS.
In terms of FIFA: Very fun player and I will try him out for sure. Very smooth with high balance and agility.
So that's quite a few Central players. As you can see in most TOTS, there are many Central Midfielders - it's the trend of this season and good CMs are vital.
Next up, we have right wingers and left wingers.
On the right we have
: Florian Thauvin
. What a season the Frenchman is having after his nightmare at Newcastle! 11 goals + 5 assists. Sometimes carrying Marseille, he's a really important player for them, and I'd like to see him do well for a few more seasons.
In terms of FIFA: Will have some brilliant stats. I'd like to try him out because with those stats it'll be hard to not give him a go

Bernardo Silva. Another star of Monaco. A 22 year old Portuguese wonderkid having yet another great season with 6 goals, 8 assists. He was an expensive transfer for Monaco, but if they were to sell him, they would certainly make a profit.

In terms of FIFA: I didn't really like his TIF and SIF, so I'd like to try him first before making a recommendation.

Thomas Lemar is a left midfielder for Monaco. He's probably even more hyped up than Silva, but the hype is completely justified. 7 goals, 6 assists, amazing dribbling (4* skills for some reason in FIFA), 83% pass accuracy. Not much more to add other than guaranteed TOTS.

In terms of FIFA: Great item stats, but bad WF and Skill moves which let him down somewhat. Will still be a really good LM.

Now we move on to the strikers, everyone's favourite!

---
Atackers
Edinson Cavani
.
PSG fans weren't left too disappointed after the leave of brahimovic, because they believed in Cavani. It was a good thing too - 28 goals, 2 assists , out of only 29 games. He just incredible; if he would finish every chance, he'd be at at least 70 goals. Even so, those stats are amazing. Guaranteed TOTS.
In terms of FIFA: I really like Cavani in game, but not many people seem to use him, mostly because of his "low" pace. I highly recommend you try out his TOTS though.
Alexandre Lacazette
.
26 games, 22 goals and 2 assists - amazing performance for a French Striker, who'll probably leave Lyon for another club in the summer after his fantastic season.
In terms of FIFA: One word… Unstoppable. I mean, even his non-IF is a cheat code.
Last player from Monaco
: Falcao
.
You expected Mbappe here, right? I can't include him. In my opinion El Tigre had a better season in Ligue 1. 19 goals scored, 3 assists. Really good comeback season for Falcao and I hope he won't be injured any time soon!
In terms of FIFA: Not too popular because of his pace. I would still recommend giving him a try, and you can hybrid him with Cuadrad.
Last striker is
Bafetembi Gomis
.
17 goals scored, 2 assists in 26 games. Not that bad, huh? I know, you'd want Balotelli here, but he doesn't deserve to be in TOTS. He had quite few great games, but overall, Gomis' performance has been better this season.
In terms of FIFA: I'd like to try his hyperlink with Thauvin, but he's not a striker for FUT Champs.
That's all with Ligue 1 and all top 5 leagues! I know there are some questionable positions and as always, I'd be happy to discuss those with anyone interested. I can't include any more players from Monaco, but I do wish I could.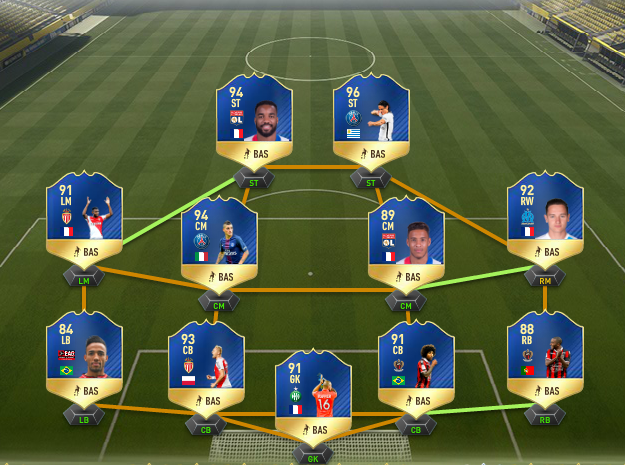 Squad link : http://www.futwiz.com/en/custom-squad/34268