I'm sure the majority of the community will be more excited about the imminent BPL TOTS tomorrow than this week's TOTW but nevertheless, I'm back again with another slightly mediocre looking prediction...
Need to be slightly careful regarding who I include in my predictions over the next few weeks though, given EA will be releasing TOTS (possibly doubling up too) and potentially some players will clash with either the preceding or forthcoming team, ie. why I didn't even consider Rooney this week. Enjoy though lads, and if you could remember to leave your suggestions in the comments as well as following myself and FUTWIZ on Twitter and perhaps even sharing this around to your mates, that would be brilliant.
He scored HOW many?!
Colo-Colo secured the Chilean Torneo Clausura and a spot in the 2015 Copa Libertadores in style this weekend with a 5-3 win over Nublense, but do you want to know what was so special about it? All five of Colo-Colo's goals were scored by Esteban Paredes. All five. Not bad eh? Hopefully we can expect a big shooting upgrade.
Somos todos Macacos
We are all monkeys. That was the message Neymar, Dani Alves and now a huge amount of other footballers have been posting on social networking sites over the past couple of days. I don't need to go over who/what/why as I'm sure the vast majority of you know, but I have a sneaky feeling EA might ride the hype and put Dani Alves in this week's TOTW. He did end up providing both of the balls which Villarreal defenders Gabriel and Musacchio turned into their own net from so he does have a chance, given I believe EA would count that as two assists. Would be a reasonable pack seller to go alongside TOTS too.
The Champions League Basque-Bound?!
Athletic Bilbao have next season's Champions League firmly in their sights after winning Sunday's showdown for 4th place with Sevilla. Iker Muniain was the star on the night, scoring once and claiming the MOTM award; as well as being the highest rated player on Marca over the course of the weekend (9). Right back Iraola also assisted two of Bilbao's three goals and put in a stellar defensive shift which could earn him a spot in this week's TOTW - there's literally seven defenders from La Liga who could make the team though (including Alves/Iraola).
Team of the Week 33 | Prediction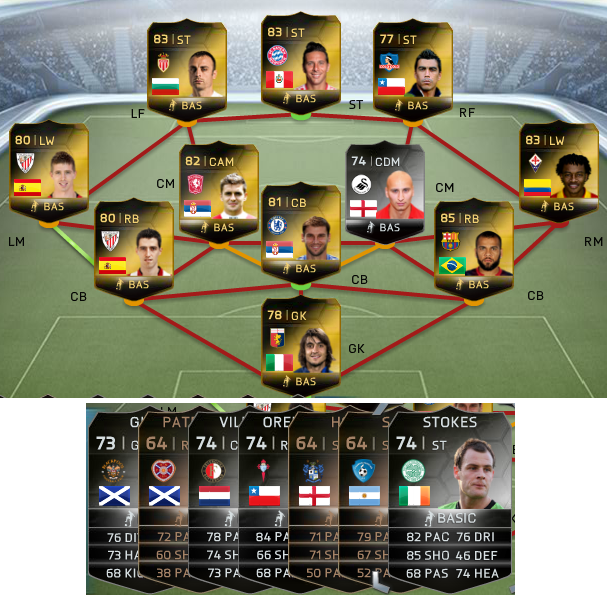 http://www.futwiz.com/en/custom-squad/73975
First XI
GK: Mattia Perin (Genoa) - 5 Saves, Penalty Save, 1-1 vs Atalanta (76>78)
RB: Dani Alves (Barcelona) - 2 Assists, 3-2 vs Villarreal (84>85)
CB: Branislav Ivanovic (Chelsea) - Fantastic Performance, 2-0 vs Liverpool (80>81)
RB: Iraola (Athletic Bilbao) - 2 Assists, 3-1 vs Sevilla (78>80)
LW: Juan Cuadrado (Fiorentina) - 2 Goals, 1 Assist, 3-0 vs Bologna (81>83)
CDM: Jonjo Shelvey (Swansea) - 1 Goal, 2 Assists, 4-1 vs Aston Villa (74>74)
CAM: Dusan Tadic (Twente) - 2 Goals, 2 Assists, 5-2 vs NEC (80>82)
LW: Iker Muniain (Athletic Bilbao) - 1 Goal, 3-1 vs Sevilla (78>80)
ST: Esteban Paredes (Colo Colo) - 5 Goals, 5-3 vs Nublense (73>77)
ST: Dimitar Berbatov (Monaco) - 2 Goals, 1 Assist, 4-1 vs Ajaccio (82>83)
ST: Claudio Pizarro (Bayern Munich) - 2 Goals, 1 Assist, 5-2 vs Werder Bremen (81>83)
Substitutes Bench
GK: Matt Gilks (Blackpool) - 2 Saves, Penalty Save, 2-0 vs Wigan (72>73)
RB: Callum Paterson (Hearts) - 2 Goals, 2-1 vs Hibernian (62>64)
CM: Tonny Vilhena (Feyenoord) - 2 Goals, 1 Assist, 5-1 vs Cambuur (73>74)
RW: Fabian Orellana (Celta Vigo) - 2 Assists, 4-1 vs Valladolid (73>74)
ST: Hallam Hope (Bury) - 3 Goals, 4-4 vs Portsmouth (59>64)
ST: Emiliano Sala (Niort) - 3 Goals, 4-2 Laval (63>64)
ST: Anthony Stokes (Celtic) - 3 Goals, 1 Assist, 6-0 vs Inverness (72>74)
@fifaRAWR